Integration with Cyc

Webstructor may be easily integrated with knowledge management architecture developed at

Cycorp, Inc. This is so simple because albeit syntactic features of CycL and ORL are different, basic ontology of CycL is very similar to underlying ontology of Webstructor (although Cyc ontology is much more comprehensive and exhaustive). That means, two-way translation from ORL to CycL and vice versa is trivial. Also, currently we are working on internal support of CycL in Webstructor.

There are two possible ways of integration.
First, Webstructor may be used as visual front-end for the
Cyc Knowledge Server. As long as Webstructor itself may be used in different configurations (web-based, local, peer-to-peer), there may be several kinds of front-end deployment. Notable, that each Webstructor World may be associated with specific Cyc Knowledge Server while each Webstructor View may be associated with specific CycL Microtheory. Pictures below demonstrate possible Webstructor Views representing some of CycL assertions. Another page gives you live instance of Webstructor running these examples.
Second, Webstructor peers may become part distributed knowledge sharing network connected to one or more
Cyc Knowledge Servers. That means, nodes of knowledge sharing network represented by Webstructor servers and Applications can talk one to one in ORL while using CycL to talk to Cyc Knowledge Servers. For more details, see notes on distributed knowledge sharing and peer-to-peer protocol.

Picture below represents part of Cyc's

biological ontology.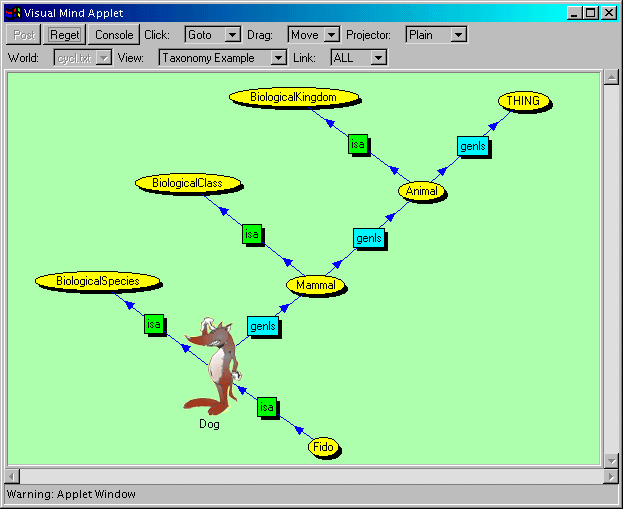 The following picture represents the following assertion
(implies (isa ?A Animal) (thereExists ?M (and (mother ?A ?M) (isa ?M FemaleAnimal))))

from the

Features of CycL page in 2-dimensional space.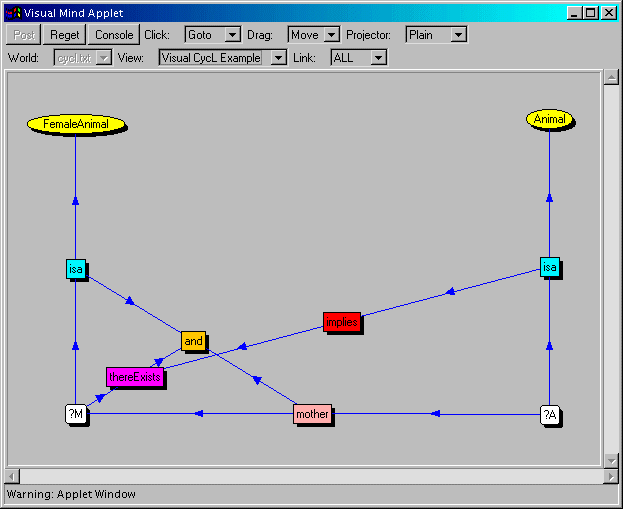 The next picture represents the same assertion
(implies (isa ?A Animal) (thereExists ?M (and (mother ?A ?M) (isa ?M FemaleAnimal))))
in 3-dimensional space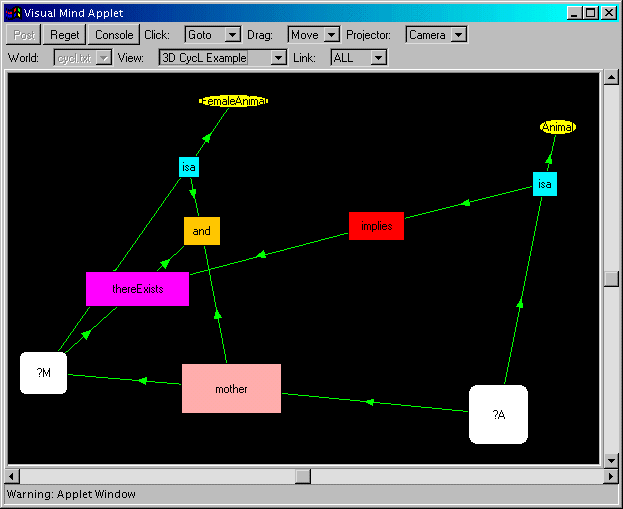 The last picture gives another example for representation of higher-order formula.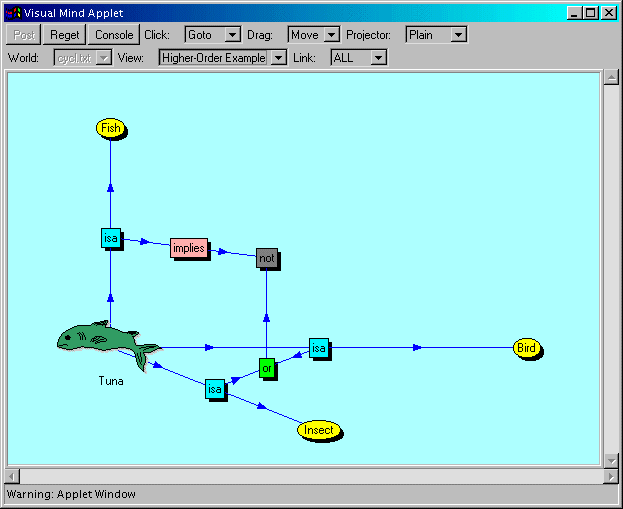 Data used in examples on this page are obtained from
Cycorp
under the following conditions.
By obtaining information, software, and/or documentation of the Upper CYCrOntology (collectively, "Material"), you agree to be legally bound by the following terms: Cycorp is providing the Material at no charge. However, it is not 'Public Domain.' Please acknowledge Cycorp, 3721 Executive Center Dr., Austin, TX 78731 in any use or citation of the Material (including, as applicable, as part of your product's documentation, packaging, and sign-on message, if said product incorporates some or all of the Material). Anyone who obtains Material from you to provide to a third party must agree to, and reproduce in full, the terms of this paragraph when and as they provide said Material to third parties. The terms of this paragraph equally apply to renamings and other logically equivalent reformulations of the Material in any natural or formal language. Cycorp intends to amend and expand the Material from time to time; the latest version is available here at www.cyc.com for browsing or downloading.
CYCORP, INC. MAKES NO REPRESENTATION OR WARRANTIES WITH RESPECT TO THE ACCURACY OR COMPLETENESS OF THE DOCUMENTATION, SOFTWARE, AND INFORMATION PROVIDED, AND SPECIFICALLY DISCLAIMS ANY IMPLIED WARRANTIES OF MERCHANTABILITY OR FITNESS FOR ANY PARTICULAR PURPOSE, AND SHALL IN NO EVENT BE LIABLE FOR ANY LOSS OF PROFIT OR OTHER COMMERCIAL DAMAGE.
Cyc, CycL and Cyc Knowledge Server are trademarks or registered trademark of
Cycorp, Inc.